19. October 2020
Banking as a service – a completely new concept?
---
Research // What is the logical consequence if banking increasingly focuses on the real needs of bank clients in the future? And how can information technology contribute to this? Banking as a service addresses the availability of banking as a technologically integrable service that can be accessed around the clock. Banking processes in the life cycle of a customer relationship take precedence here – from initiation to advisory and execution, through to management and monitoring.
Old wine in new bottles?
With a Google search for 'banking as a service' resulting in 520 million hits (as of May 5, 2020), the term is evidently being widely used. But what is 'banking as a service' exactly?
Banking is in fact a service. 'As a service' is borrowed from IT vocabulary and addresses the 24/7 availability of banking as a technologically integrable service. Economic transformation mechanisms such as payments and transformation of matu-rities, as well as the store of value, fall into the background, be-cause the 'how' becomes more important than the 'what' – right up to the level of bank processes, from the start to the end of a customer relationship.
Information technology provides support for (non-)trivial banking processes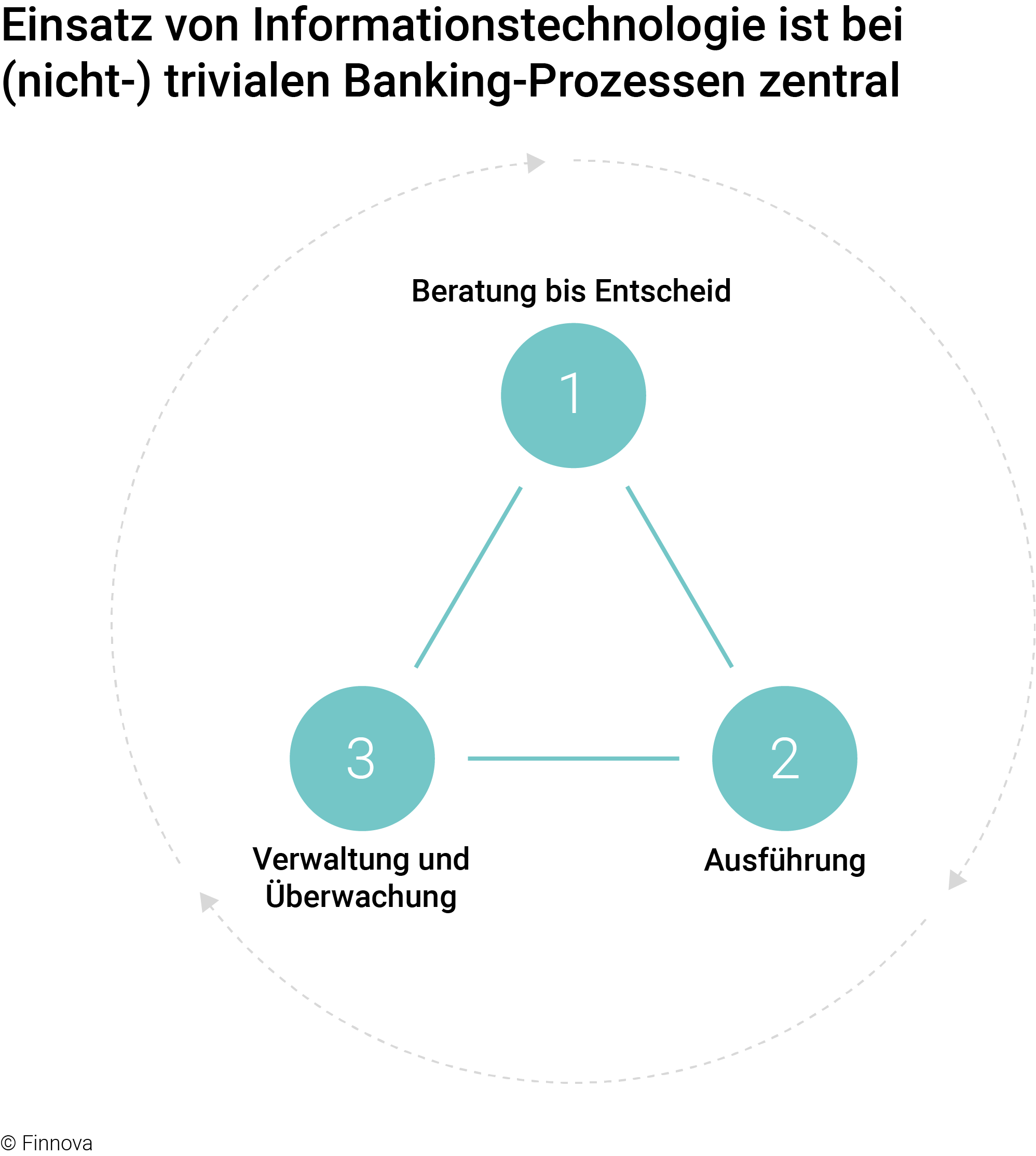 The use of information technology is absolutely central to (non­) trivial banking processes. It guarantees security and transparency, and molds internal bank requirements and legal requirements into process-driven sets of rules:
1. Advisory up to decision making
2. Execution
3. Management and monitoring
Process steps in brief
Step (1) focuses on dialog, or the open exchange of information, and research. Secure, fast, and reliable performance with con-stant status information and, depending on the rule system in place, transparency in relation to process and commissions are pivotal in the execution step (2).
The management and monitoring step (3) involves the collection, processing, and continuous assessment of data relevant for the business transaction. The obligation to inform also applies here: customers want to be made aware of changes concerning the market, product, process, limit, and risks, among other factors. Information is also required as part of due diligence or by law. This includes the documenting of the new situation in each case (exposure/risks, client category, and advisory discussion) as actual business cases.
When it comes to interaction with the customer, it is crucial to consider not only the processes that are used but also the fact that the financial service provider is – with the possible excep-tion of the store of value – only an implementing aid for another, more fundamental requirement. This leads us directly to the topic of 'open banking' and to the integration of banking into value chains. For example, the driver in the value chain of a real estate financing transaction lies in the 'Residential' requirement and not, as previously thought and implemented, in the 'Financing' requirement.
Open banking as a logical consequence
With today's technological tools, weakly structured processes from the advisory and decision-making step 1 can be contin-uously developed and integrated digitally. Recognizing patterns in these processes, drawing parallels, and being familiar with relevant decision criteria are decisive for a conclusion (of a con-tract). The key to this lies in the maximum use of all information from the processes.
Financial service providers have already been implementing processes in the execution and processing of orders (2) for years. Digital signatures and willingness to provide information at all times must now also be taken into account. The latter requires financial service providers to be able to provide clients, partners, intermediaries, and internal departments with information about the exact status of the respective process step at any time, transparently.
Sourcing and combined offers have a key role to play here with regard to 'open banking.' What is clear is that standards and tech-nology are required to cope with increased complexity. Technol-ogy also provides possibilities for substantial professional and technical quality improvements in the case of management and monitoring (3), for example using algorithms that reliably com-bine the relevant data into informational notices and provide these to the right place, or using automatically generated sugges-tions for the adjustment of an existing transaction.
Tools are ready
For the steps 'advisory up to decision making' (1), 'execution' (2), and 'management and monitoring' (3), new simple, understand-able ways are needed at the customer interface for customers seeking financial services. These ways must be comprehensible and must not overburden customers or flood them with informa-tion. They should accompany the transactions, taking into ac-count a simple set of information that feels complete, as well as quickly satisfying the primary customer requirements.
The technical toolbox for these new ways is full to the brim. Broad understanding of the many problems and manifold per-spectives and requirements of customers form the basis for suc-cess. The desire to try things out, the associated risk­taking, the ability to critically observe and assess, as well as short improve-ment intervals, are also considerable factors. The presence of a maturity model on the supplier and demander side helps in the implementation. And we should never forget: real, actively lived partnerships and partnership models also contribute to success, because plurality and heterogenous systems offer potential for better solutions.
Portal as a Service
Various digitalization initiatives have been guiding Finnova for some time. The requirements of bank customers have developed in the direction of attractive portal services in a short time. Modern bank customers want to be able to contact the bank independently and at all times. Furthermore, they want to be able to initiate or receive various bank services independently via their freely selected electronic channels. In order to satisfy these requirements for our Finnova customers, Finnova and ti&m are taking on the 'Customer portal as a service' together as part of the Finnova thought leadership topic 'Banking as a service.' The customer portal solution is being offered as a Community solution in the 'Software as a service' (SaaS) model. Using SaaS, we can ensure that all customers consistently and sustainably benefit from further developments and updates within the portal. Together with ti&m, Finnova is developing widgets that supplement the portal with new functions and information on an ongoing basis. Customer requirements are central to the development of new products and solutions. That is why the current focus is on the onboarding process for new customers, the transmission of information for account and other services, as well as the implementation of the digital branch.
Finnova and ti&m are intensively driving forward the portal service for the over 100 Finnova banks with joint teams. SaaS is self­explanatory, meaning Finnova can react quickly and effectively to client needs and make adjustments available to the whole Community on an ongoing basis, practically overnight. The partnership with ti&m enables us to specifically focus resources and to further develop the portal in a future­oriented, agile manner. The open widget catalog is being extended on an ongoing basis.