Executives of several leading companies have already participated in our leadership training
At ti&m, we have been implementing AI-based solutions for clients from various industries for years. Since the beginning of 2023, we have repeatedly received inquiries on this topic, and we sense a great need from decision makers for strategies to leverage the potential created by AI. For this reason, we have developed a 90-minute leadership training on Generative AI specifically for executives: We introduce the technology and the different sub-areas of artificial intelligence, give an overview of the current solutions on the market and discuss together different possible applications for AI in your field.
We would be delighted to show you and your team how to successfully leverage AI in your company.
You will find all details – incl. content and agenda – about our Leadership Training Generative AI in our flyer.

Download now for free!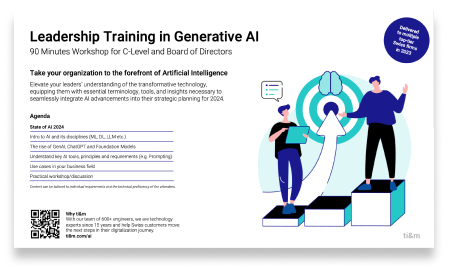 Head of Machine Learning
Ursin Brunner
Do you have questions about the AI leadership training or do you want to sign up your company? We are looking forward to hearing from you!