Enable the future of banking – today
Banks are tied to legacy core banking systems that are monolithic, stable, and expensive to maintain. This makes it difficult to meet the constantly evolving needs of customers and market trends. Without the right solution, innovating on existing core banking systems can be risky and hugely disruptive, and the lock-in effects can be daunting. ti&m's banking adapter simply decouples your core system from the frontend applications, enabling banks to innovate rapidly in the front end, while keeping the underlying technology and core banking system intact.
A new architecture for your banking technology
A connection with your core banking system lets you move quickly and grow your business solutions landscape, without impacting your core systems of record. Our solution offers banks a seamless way to innovate and focus their resources on what matters to customers.
Start leveraging an open ecosystem
Build a new banking experience through flexible, stand-alone modules that can be combined according to your bank's unique needs. Our system guarantees high performance thanks to extrapolated, secure data replication. It is designed and built for growth, so you can continue adding or exchanging elements without touching the core system, while maintaining full backward compatibility. Get maximum flexibility with minimum lock-in effects with the banking adapter.
Discover the ti&m banking adapter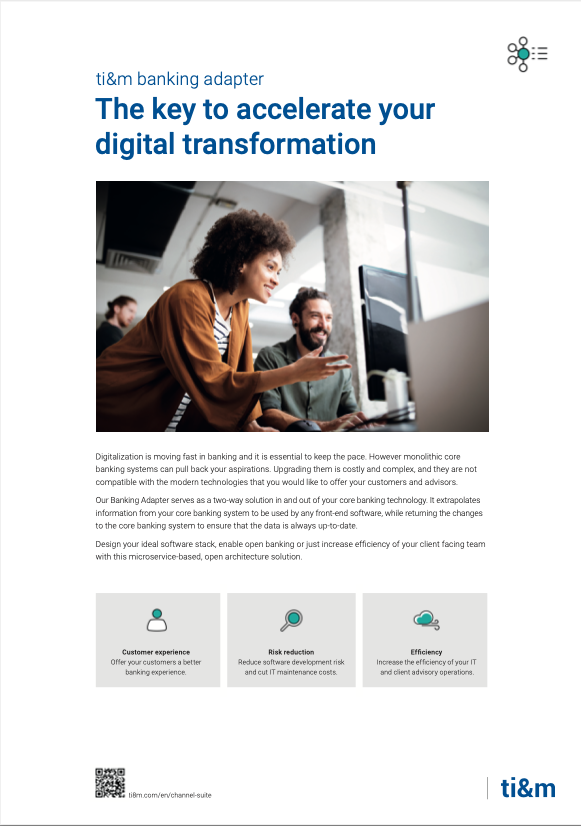 Head of Products & Banking Innovations
Fabian Braunwalder
Ready to transform your bank with cutting-edge technology? Speak with an expert.