As the largest IT service provider in the Federal Administration, FOITT develops and operates specialist apps for the various departments and offices, provides over 40,000 workstation devices, and makes around 1,000 sites accessible with network connections. It is particularly personal equipment – Notebooks, digital tools and support services – that has a consid-erable influence on how the Federal Administration employees go about their work.
In August 2020, FOITT launched a transformation initiative geared towards new operating models and working methods based on SAFe, in order to be able to produce services more agilely and flexibly. Today, collaboration – both internally at FOITT as well as with customers – is char­acterized by a higher degree of agility and flexibility. Most of the employees now work in agile work organizations. To ensure a successful transformation, it is important to provide employees with the necessary workspaces and tools.
In this, a key part of the puzzle is the move into the new office building in Zollikofen. Since autumn 2021, employees have had a range of modern workspaces at their disposal. A hot-desking policy applies throughout FOITT – allocated workstations are now a thing of the past. Employees can make use of project zones and creative zones, open-desk workspaces, or rooms for quiet work and private meetings. The Meielen campus facilities in Zollikofen are supplemented by a co-working space in Zurich. Working from home and flexible working, for example at customer premises, has long been a reality at FOITT.
The coronavirus pandemic: a shot in the arm for new working models
The coronavirus pandemic proved to be a watershed moment. March 16, 2020 made the shift to flexible forms of working a necessity. When the government proclaimed an "exceptional situation", most employees went from working at the office to work­ing between their own four walls virtually overnight. For FOITT, the largest IT service provider in the Federal Administration, this presented a huge challenge. Demand for remote access to the federal network exploded overnight; meetings were taking place almost exclusively via conference calls and video platforms, and support staff were no longer able to drop into the office to replace devices.
Managers quickly had to adapt how they led their teams, and employees were forced to get themselves organized in all sorts of aspects.
In the midst of this crisis, and despite its own staff working from home, FOITT successfully managed to expand the infra­structure for remote access to the federal network within a very short time. Addition­ally, providing alternative conferencing tools and actively informing users on how to use new solutions that they weren't familiar with helped the Federal Administration carry out its tasks despite the difficult circumstances.
FOITT Store: An idea born of necessity has proven its worth
Especially in support services, new solutions were in high demand during the pandemic. Instead of going to the office, replacement parts had to be sent to private addresses, and support staff themselves were largely
working from home too. By running a pop-up store in Bern, FOITT created a new contact point to deal with support queries. Anyone experiencing issues while working from home could bring their device along to the pop-up store without prior notice, or pick up any ordered replacement material. And so a concept born of necessity proved its worth: As a result of the pop-up store's success, users can now get support permanently at the newly opened FOITT Store on Bollwerk in Bern's city center, where they can drop in unannounced.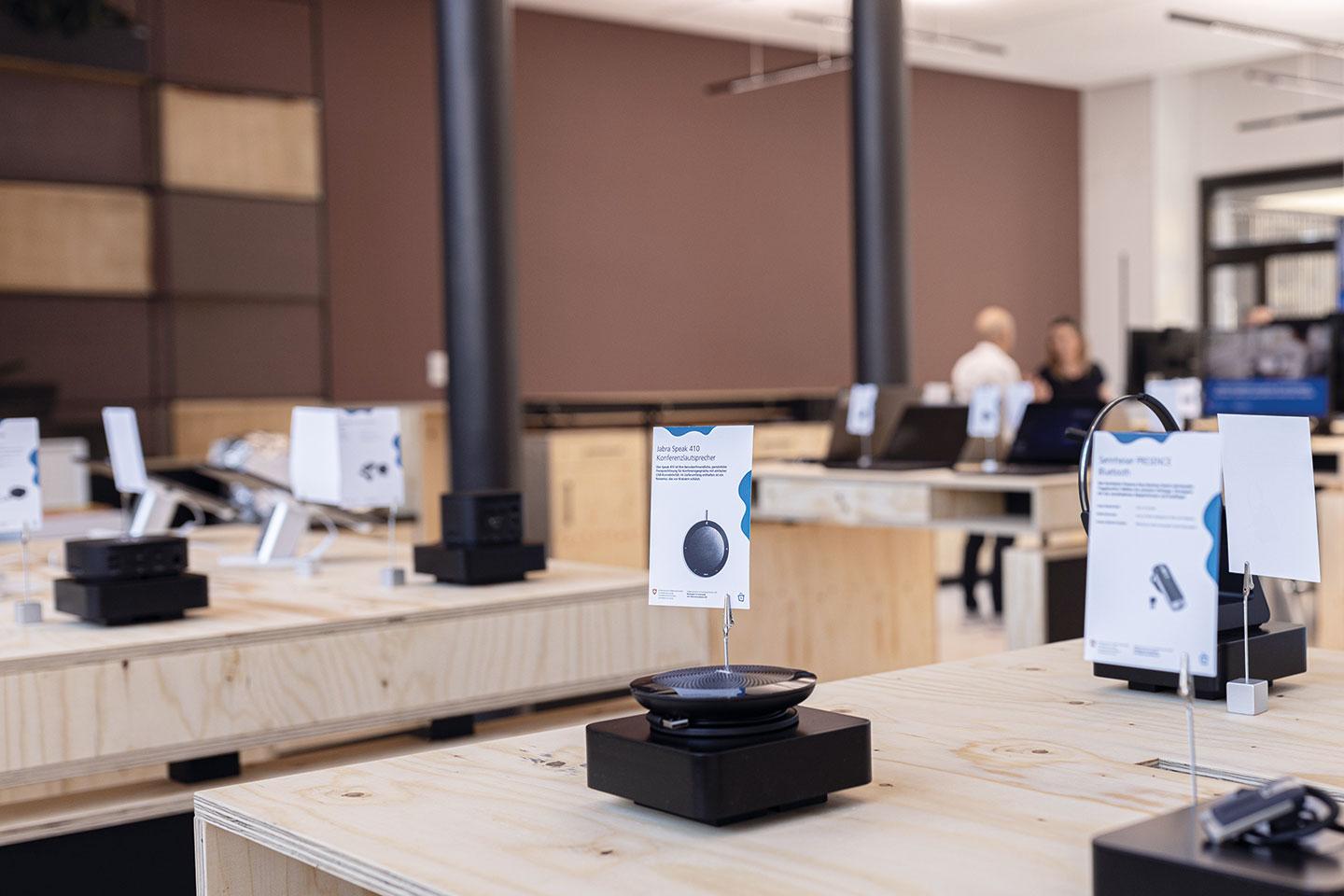 Good teamwork doesn't depend on location
In addition to demand to expand remote access and come up with new ways of working together, innovative products to combat the spread of the virus were also sought after during the pandemic. FOITT teamed up with the Federal Office of Public Health and other partners, including ti&m, to produce and supply the SwissCovid app as well as the Covid certificate system within a very short time. This simply would not have been possible without agile methods and flexible working models. Interdisciplinary, cross-organizational teams worked together remotely and agilely, with-out ever meeting in person, proving that agile and flexible working methods are not 'fair-weather' concepts.
New modes of working are here, and they're here to stay
The conclusion for FOITT so far is clear: flexible working models work. For sustainable change, however, efforts need to be made in several dimensions and there must be the will at every level of leadership to make changes. Fundamentally, leadership must be willing to allow differ-ent forms of collaboration to happen and to accept mistakes and/or shortcomings along the way. Investments also need to be made in the required infrastructure as well as in suitable working devices. Circumstances beyond their control like the coronavirus pandemic have made it easier for FOITT to pursue the path already trodden and to make it an integral part of the organization. Flexible working models are an important building block in successfully addressing the big challenges of digitalization in public Switzerland.