Around 80 countries worldwide are in the process of introducing guidelines or mandatory directives in the areas of open banking, open finance, and even open data. The aim is to promote innovation and competition in the financial sector through standardized data exchange between banks and certified third-party providers via modern interfaces (application programming interfaces — APIs). After initial skepticism, a strategic and technological rethink is gradually taking place on the banking front in these countries. The first pioneering banks, such as Deutsche Bank, ING, or JP Morgan Chase, have begun to offer APIs beyond the mandated area — usually payment transactions. And Switzerland? Switzerland is currently still leaving it up to the financial sector itself to actively tackle the issue of open finance. However, the banks are expected to open up, as postulated in the Federal Council's report "Digital Finance: Areas of action 2022+". This is why in May 2020 — in response to international developments and in collaboration with leading banks and third-party providers — SIX launched the bLink platform: An API infrastructure tailored to Swiss market requirements that enables its participants to implement their open finance projects in an easy and secure manner.
Standardization on bLink creates impressive economies of scale
For a Swiss bank, the key question in the context of open finance is whether it wants to connect third-party providers to its interfaces individually or via a central API platform. The advantage of bLink lies in its standardization approach, which ensures efficiency and high scaling potential. Banks and third-party providers need only sign a single participant contract with SIX instead of negotiating many individual agreements. SIX also handles the unified verification of participants for admission to the data exchange. This additionally creates a crediblerelationship of security and trust on the platform. After the connection, SIX ensures comprehensive partner management between participants.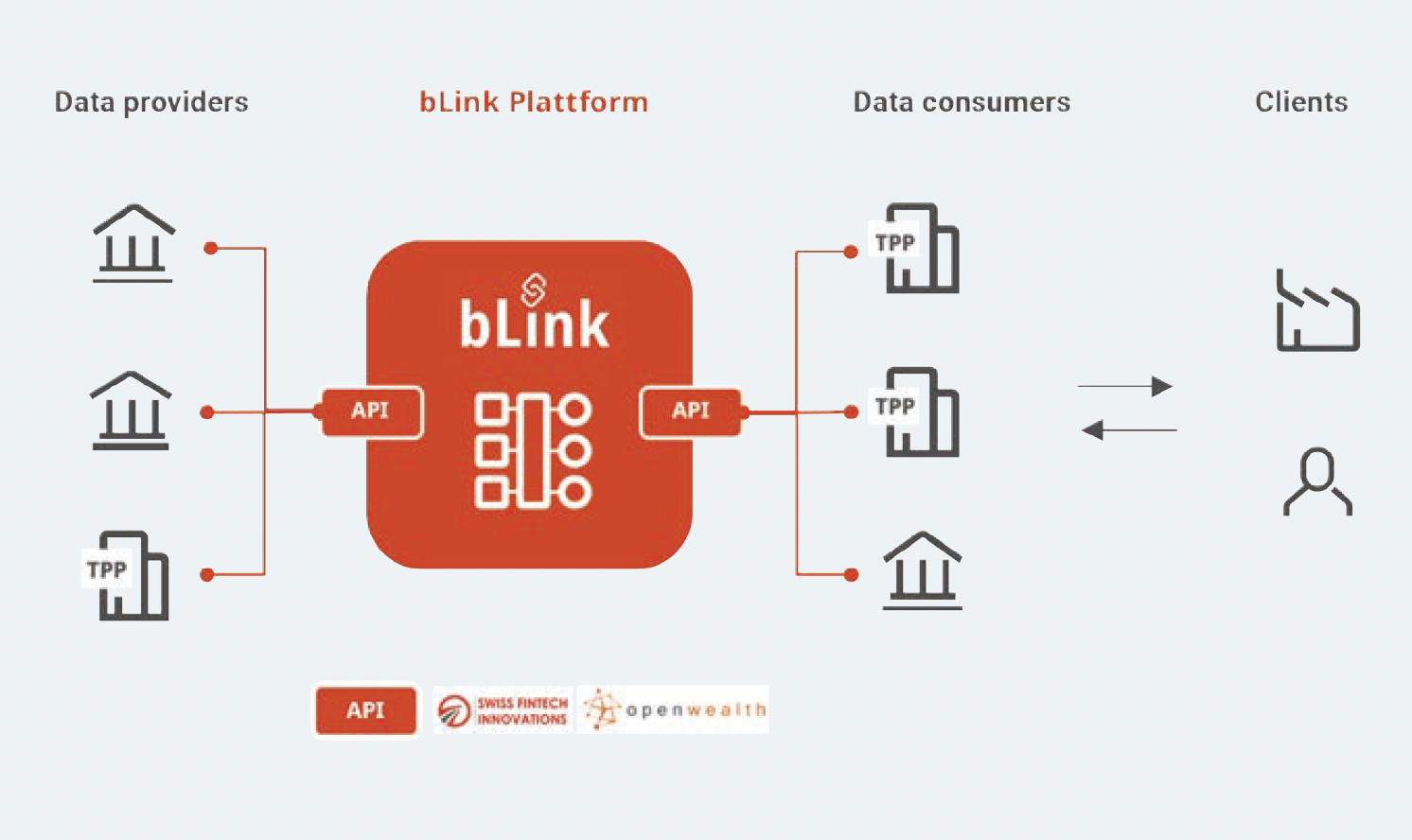 The platform is growing: More participants, more APIs, more use cases.
In close collaboration with key Swiss market initiatives, such as Swiss Fintech Innovations (SFTI) and OpenWealth, bLink is implementing standard interfaces on the platform that are supported by the financial industry. Currently, interfaces are available for the account and payment areas, as well as for asset management. Further APIs, such as for card or tax data, are being developed. In addition to these standardized interfaces, participants also have the option of offering their own premium APIs via the platform or, conversely, using such APIs from other providers. With a single connection to bLink, various use cases can be implemented, such as the connection of accounting solutions, portfolio- management systems for third-party asset managers, or multibanking with a variety of desired counterparts. Accordingly, the standardized approach on bLink is gaining unique traction throughout Switzerland. Over the course of 2023, more than 10 Swiss banks and around 20 thirdparty providers (as of December 2022) will be connected to the platform. And the more potential connectivity options that become available, the sooner the bLink API platform will establish itself as the leading Swiss open-finance infrastructure. In order to ensure scaling, it is primarily essential to guarantee the connectivity of all banks to bLink, and thus also to each other. SIX has therefore established strong collaborations with key Swiss IT partners that allow for a coordinated integration of interfaces into all core banking systems. In addition to Finnova, Inventx and Swisscom, SIX was able to gain another central partner in ti&m, which is currently supporting its first bank client in connecting to bLink.
ti&m as a bLink integration partner for retail banks
Many banks are convinced that the future belongs to open ecosystems. If this opening is not actively driven forward by the industry itself, the legislator will sooner or later intervene in a regulatory manner, as it has already done in the EU through PSD2. In an ongoing project, ti&m is responsible for the bLink integration of a Swiss retail bank, which is presented here as an example.
For the bank, the solution focuses on the account information service (AIS) and payment submission services (PSS). With account information services (AIS), thirdparty providers can obtain detailed account and transaction information for their clients from their banks for use in reconciling their clients' accounts, for instance. Payment submission services (PSS) enable third-party providers to automatically instruct banks to make payments for their clients. ti&m's solutions are open and modular, which allows for easy and fast integration of APIs. This allows third parties to be connected to the bank's ecosystem and new business and client models to be developed. With the ti&m banking adapter, ti&m has a standardized integration solution to establish the link and data exchange between the respective core banking system and bLink. The read/write interfaces of the ti&m banking adapter connect the information of the core banking system and the domainmodel. The information is transported tothe ti&m banking suite environment via the Kafka Connect API. From there, the information is made available to bLink's standardized interfaces, where it can be used by connected third-party providers.