ti&m realisiert im Auftrag der SVV Solution AG, einer Tochtergesellschaft des Schweizerischen Versicherungsverbandes (SVV), eine neue Regressplattform für effizientere Abwicklung der Rückgriffe/Regresse zwischen den Versicherungsgesellschaften.
Was macht der Kunde, was braucht er, was haben wir bieten können, wie haben wir es gelöst
01
Prozesse

Regressabwicklung zwischen Versciherungen Digitalisierung des Prozesses

02
Collaboration
Zusammenarbeit und Abstimmung innerhalb eines Konsortiums
03
Strategie
Businesslogok / Komplexität Text dazu
04
Security
Securityanforderungen ...
05
Cloud
Cloud-Technologie mit Azure
Fazit
Papier kann abgelöst werden, Mails, Briefe und hin- und hersenden von Dossiers entfällt, Informationen können digital ausgetauscht und/oder auf der Plattform abgearbeitet werden. Die Abwicklung beschleunigt sich enorm und Arbeit kann effizienter durchgeführt werden.
Die Apllikation wurde sehr gut angenommen und wird rege genutzt. Hohe Akzeptanz für die Applikation. Bei über 2000 Endbenutzer sind aktuell mehr als 1000 Fälle in Bearbeitung oder abgeschlossen (aktiv und passiv). 8 grosse Versicherungsgesellschafgten sind angeschlossen. Stand April 2022
Applikation wurde im März 22 eingeführt. Weiterführende Entwicklung und Optimierungen erfolgen.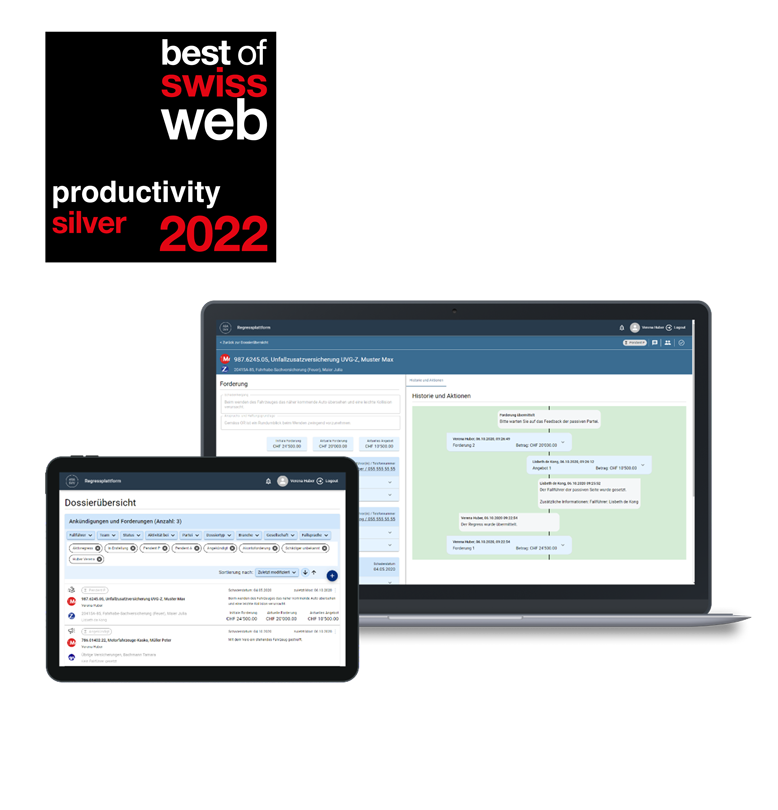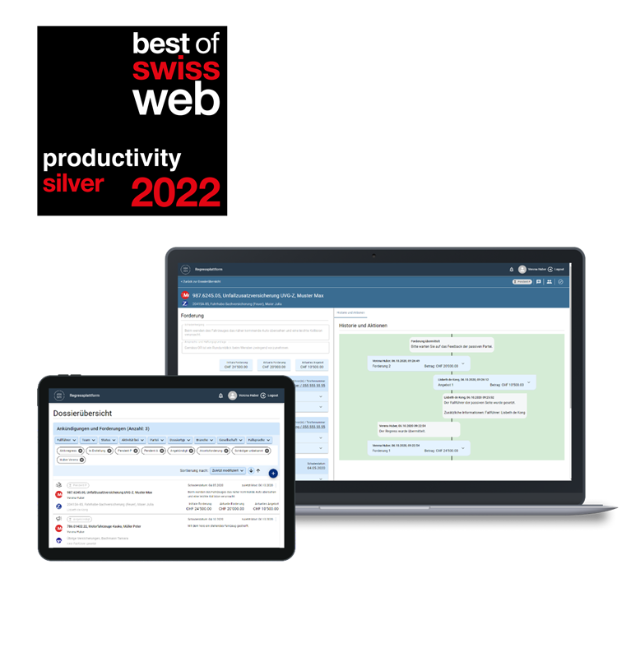 SVV Solution AG
Recourse platform wins silver at Best of Swiss Web 2022
Our recourse platform for the Swiss Insurance Association takes second place in the Productivity category.